Discover in 3D these luxury apartments in Bangkok
---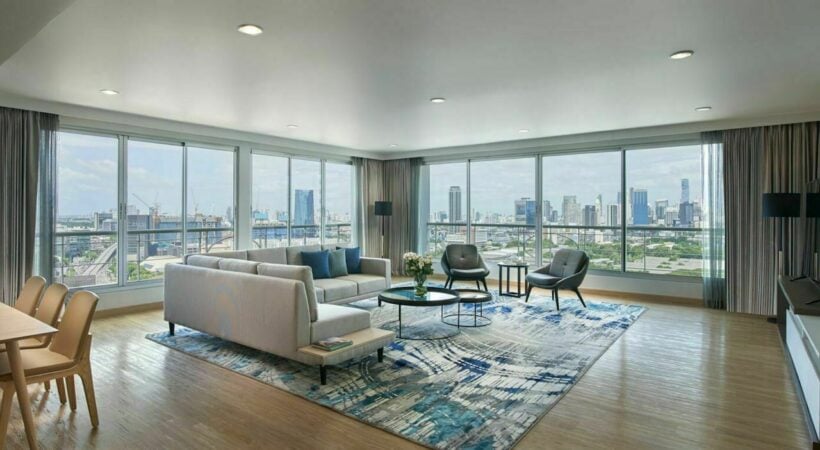 Boasting high-end amenities, beautiful architectural design and lush greenery, luxury apartments in Bangkok offer a lifestyle of extravagance and exclusivity. They can cost a pretty penny, but residents have pretty much everything at their fingertips.
If you're looking for the best luxury apartments in Bangkok, we've got you covered! Let us tempt you with a taste of the sumptuous apartments on offer in the Thai capital.
1. Unparalleled luxury at Bangkok's most exclusive address
Rental price: $7,400 (฿260,000) per month for a one-year contract
Located in the heart of Sukhumvit, this 4 bedroom apartment in The Madison is perfect for families who dream of an oasis amidst the hectic hustle and bustle of Bangkok. With floor-to-ceiling windows overlooking the city skyline, rooms are spacious, well-lit and airy. The large open-plan living room has huge glass doors which open onto a large balcony where you can enjoy your breakfast while enjoying the morning sun. Want more relaxation? This luxury apartment in Bangkok has all the luxurious amenities you can think of. These include an outdoor swimming pool, a gym, an indoor children's area, a lush garden with a barbecue area, a clubhouse and even a sauna.
2. Enjoy a 180 degree view of the Chao Phraya River!
Selling price: $5,690 (฿200,000) per month for a one-year contract
This 3 bedroom apartment Watermark Chaophraya offers one of the best views in Bangkok. Imagine waking up in the morning to the relaxing scenery of the Chao Phraya River – you can do that every day if you live here! Whether you're rejuvenating in the tub or enjoying your morning coffee on the balcony, you can enjoy front row seating by the river from this apartment. In addition, there is a large selection of facilities in the building. Go to the garden for a moment of silence, keep in shape in the gym, improve your tennis game on the tennis court, take a dip in the swimming pool or relax in the hammam and sauna. Want to socialize? There is a clubhouse and an indoor area for children.
Thaiger property
3. Unparalleled exclusivity and accessibility
Rental price: $2,850 (฿100,000) per month for a one-year contract
Sitting on the 21st floor of Kiarti Thanee City Mansion, this 4 bedroom apartment exudes elegance and exclusivity. With white marble flooring and giant windows, the living room of this luxury Bangkok apartment is bright and well-ventilated. Plus, the building has everything you need for a lavish lifestyle. You can enjoy the large swimming pool, sauna, garden, playground, gym and many more. Thanks to its fantastic location in Sukhumvit, the apartment is surrounded by major shopping malls like Emporium and Siam Paragon. Travel is also convenient as it is close to BTS Asoke and Phrom Phong. But with all the facilities it has to offer, you don't need to go anywhere!
4. Hotel-worthy lifestyle in upscale Bangkok
Rental price: $4,780 (฿168,000) per month for a one-year contract
If you dreamed of living as if you were in a hotel, this serviced apartment of 3 bedrooms Ascott Thonglor Bangkok is perfect for you. It offers the services of an exclusive hotel but with the privacy of a luxury residence. Every room in this apartment is carefully planned and designed to meet the needs of urban families. Moreover, you are free to relax in the swimming pool or sauna after a long day, relax your eyes in the green garden, keep active in the gym or enjoy delicious meals at the on-site restaurant. The building also offers an indoor children's area, lounge, co-working space, and shuttle. This is truly an apartment with the best of everything.
5. A quaint place to live just minutes from Asoke BTS station
Rental price: $5,550 (฿195,000) per month for a one-year contract
With spacious and well-designed rooms, you'll feel right at home the moment you walk through the door of this 3-bedroom condo. Asoke overlooking Lake Shama. The interior is warm and cozy, with wooden floors, white moldings around windows and doors, neutral-colored furniture, and blue accents. From the tall windows in the living room and bedrooms, you get crystal clear views of the lake and the Bangkok skyline from this serviced apartment. Moreover, you can enjoy the huge swimming pool, the well-equipped gym and the yoga space on the 28th floor. The building has an indoor hot tub and sauna. There's also an indoor golf driving range, children's playroom, multilingual concierge, meeting rooms, and fabulous on-site restaurants.
6. Embrace high-end living in this stunning penthouse
Rental price: $7,650 (฿270,000) per month for a one-year contract
This 3 bedroom penthouse Celes Asoke is the definition of opulence. Each room bathed in light is tastefully decorated. From the moment you lay eyes on the luxurious living room to the second you sink into the plush bed, this penthouse is sure to charm you. Plus, you can take your pampering to the next level by relaxing in the building's sauna or jacuzzi. For the ultimate city break, the rooftop pool and garden provide an incredible outdoor space to retreat to after a busy day at work. For the entire upscale living experience, the building also offers a gym, multi-purpose room, meeting room, and lounge. Moreover, it is located in a prime location in the Asoke area. Thus, residents are only steps away from well-known restaurants, upscale shopping malls, and BTS and MRT stations.
Have you found the apartment of your dreams on this list? Be sure to visit Thaiger property for more information and to rent your favorite luxury apartments in Bangkok!
Need more recommendations for luxury properties in Bangkok? Check out our article on the 5 Best Condominiums in Central Bangkok near BTS Skytrain 2022!